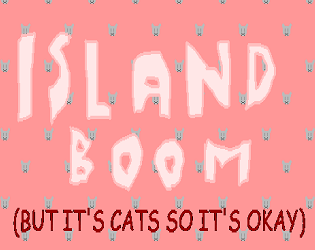 Island Boom (Ludum Dare 38)
A downloadable game for Windows
You have probably heard cats meowing "IB-BICSIO". Do you want to know what "IB-BICSIO" is? Now you can! Duke it out with a feline/canine/human friend on one couch and show who's the best cat!
Features:
* Use your five weapons, including fish, mice and pooping birds to kill the enemy cat!
* Everything is procedurally generated for maximum enjoyment!
* Supports two-player mode or a virtual simulated cat as an enemy.
* Custom levels!
* Loosely inspired by Tic Tac Toad's Micro Murder (but it's robots so it's okay). I've never heard of any worms, except the ones that are in ground.

Controls:
WASD - Move
Space - jump
Mouse - shoot
Q/E - switch weapons
LD URL:
https://ldjam.com/events/ludum-dare/38/island-boom-but-its-cats-so-its-okay/

Changelog:

1.1 - added level loading
1.07 - also disabled CPU movement when CPU has fired
1.06 - disabled movement when CPU is playing
1.05 - fixed weapons not slowing down bug
1.04 - fixed rocket bug
1.03 - balanced the game length a bit so one game doesn't last 5 seconds
1.02 - fixed knockback bug
1.01 - fixed all camera glitches.
1.0 - initial release
(C) 2017 Adrian Makes Games. Made for Ludum Dare 38 - theme: Small World.